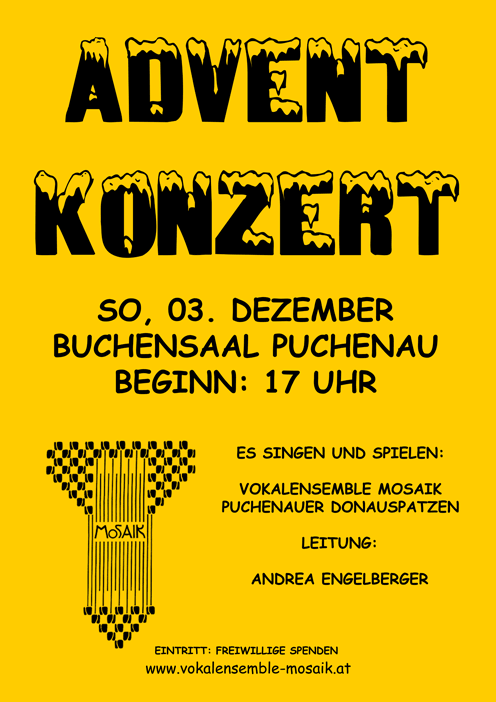 Programm
Sternentanz                               Puchenauer Donauspatzen
Zint au a Liacht                                   Werner Brüggemann,
                                                           Hans-Dieter Mairinger
Leuchte mein Licht                                   Meinhard Ansohn
Gaudete, Christus est natus                        Piae Cantiones,
                                                                Arr. Robert Latham
Ein Stern steht hoch am Himmelszelt               Kurt Mikula
Ding, Dong! Merrily on High                    Frankreich 6. Jhd,
                              G. R. Woodward, Arr. William Llewellyn
Weihnacht ist immer dann                       Werner Totzauer
Born On A New Day               John David, Arr. Peter Knight
                                                                Text: Philip Lawson
Mein Kind, ich will dein Engel sein           Christine Weber,
                                             Kees Vlaks, Bernhard Eppacher
Weihnachtskekse-Swing                         Lorenz Maierhofer
Weihnachtsbäckerei                                      Rolf Zuckowski
Shepherd's pipe carol                                        John Rutter
Masithi                                                      Xhosa Traditional
Breath of Heaven                           Chris Eaton, Amy Grant,
                                                                    Arr. Lloyd Larson
O Happy Day ! Philip Doddridge, Edward Francis Rimbault
The Holly and the Ivy      England 18. Jhd., Arr. Kirby Shaw
Santa Baby                                 Joan Javits, Philip Springer,
                                       Tony Springer, Arr. Carsten Gerlitz
A Merry Christmas          English Trad., Arr. Arthur Warrell
Mein kleiner grüner Christbaum                    Bert Reisfeld,
                         Albrecht Marcuse, Arr. W. W. Mayer,
                         Text: Salzburg Comedian Harmonists
Es wird schon glei' dumper                     Volkslied aus Tirol
                                 (Brixental), Satz: Siegfried Singer
Wir danken für Ihren Besuch !
Mitwirkende
Puchenauer Donauspatzen
Vokalensemble MOSAIK
Sopran: Andrea Antenreiter, Silvana Eckerstorfer, Brigitte Eckl, Tanja Egginger, Elke Eisschiel, Beate Kaserer, Edith Malek, Eva Mittendorfer, Gundula Pinter, Maria Rauch
Alt: Doris Fischer, Tina Hiebl, Maria Hödl, Elisabeth Kunisch, Gerlinde Mair-Heinschink, Marianne Pörtl
Tenor: Bodo Heise, Lydia Steininger, Nik Shahriar
Bass: Gottfried Eckl, Walter Engelberger, Wolfgang Filzmoser
Klavier: Johanna Mane
Sprecher: Walter Engelberger
Leitung: Andrea Engelberger