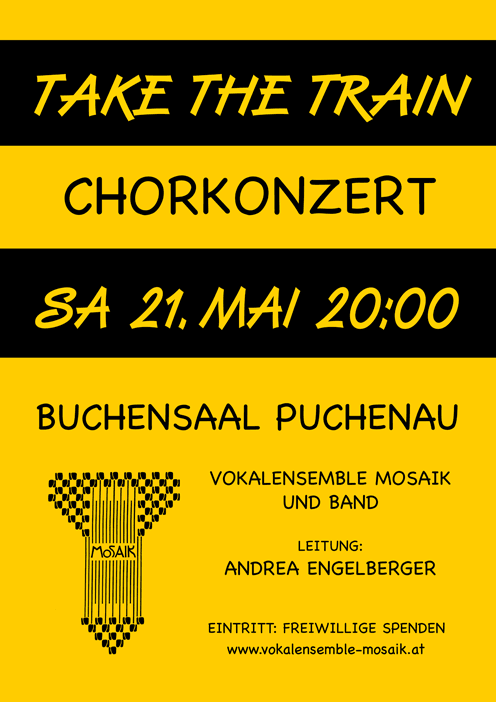 Programm
Pase el agoa                                                           Spanien um 1500
Now is the month of Maying                                Thomas Morley
Sing we and chant it                                                Thomas Morley
Can't Buy Me Love            Lennon/McCartney, Arr. Keith Abbs
Blackbird                    Lennon/McCartney, Arr. K.-F. Jehrlander
The Sound of Silence              Paul Simon, Arr. Johannes Wenk
In der Bar zum Krokodil                                    Fritz Löhner-Beda,
                                                Willy Engel-Berger, Arr. Albert Hosp
I liassert Kirschen wachsen        Karl Hodina, Walter Pissecker,
                                                                             Arr. John Winbigner
And So It Goes                                      Billy Joel, Arr. Bob Chilcott
L. O. V. E.              Bert Kämpfert, Milt Gabler, Arr. Stefan Foidl
I'm A Train                           Albert Hammond, Mike Hazelwood,
                                                                                    Arr. Peter Knight
Pause
Ich brech die Herzen der stolzesten Frau'n       Lothar Brühne,
                                                             Bruno Balz, Arr. Tilman Jäger
Schöne Isabella von Kastilien            Erwin Bootz, Gerd Karlick,
                                                                                    Arr. Tilman Jäger
Chattanooga Choo Choo             Mack Gordon, Harry Warren,
                                                                                           Arr. W. Engel
St. Louis Blues                                 W. C. Handy, Arr. Kirby Shaw
Take the "A" Train                             Billy Strayhorn, Lee Gaines,
                                                                                     Arr. Åke Erikson
This Masquerade                                                            Leon Russell
Leuchtturm                Nena Kerner, J.-U. Fahrenkrog-Petersen,
                                                                               Arr. Carsten Gerlitz
Don't stop me now                  Freddie Mercury, Arr. Ben Parry
Wir danken für Ihren Besuch !
Mitwirkende
Sopran: Andrea Antenreiter, Tanja Egginger, Elke Eisschiel, Edith Malek, Eva Mittendorfer, Gundula Pinter, Maria Rauch, Christa Sonnberger, Gerda Steiger
Alt: Doris Fischer, Maria Hödl, Elisabeth Kunisch, Gerlinde Mair-Heinschink, Ingrid Matzinger, Marianne Pörtl, Christine Struger
Tenor: Bodo Heise, Lydia Steininger
Bass: Walter Engelberger, Wolfgang Filzmoser, Johannes Kunisch, Franz Peterseil
Solo: Wolfgang Filzmoser, Andrea Engelberger, Doris Fischer
Quartett: Andrea Engelberger, Doris Fischer, Bodo Heise, Wolfgang Filzmoser
Klavier: Michael Kreuzer, Schlagzeug: Thomas Engelberger, Bass: Ernst Bruckmüller
Sprecher: Walter Engelberger
Leitung: Andrea Engelberger
Herzliche Einladung zu unserem nächsten Konzert:
Konzert zum Kirchweihfest in der Alten Puchenauer Kirche am Samstag, 1. Oktober 2016, Beginn 19 Uhr