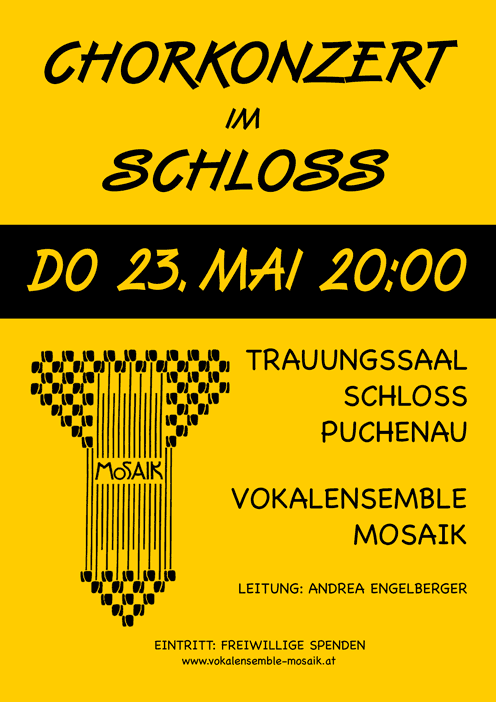 Programm
Amor vittorioso                                  Giovanni Giacomo Gastoldi
Kein Schwein ruft mich an                                             Max Raabe
                                                                              Arr.: Carsten Gerlitz
Short People                                                             Randy Newman
                                                                                  Simon Carrington
Somewhere, Over the Rainbow     Harold Arlen, F. Y. Harburg
(aus "The Wizard Of Oz")                             Arr.: Siegfried Bauer
America                           Leonard Bernstein, Stephen Sondheim
(aus "West Side Story")                                Arr.: William Stickles
An Englishman in New York               Gordon Matthew Sumner
(Sting)                                                             Arr.: Manfred Mauser
The Girl from Ipanema                               Antonio Carlos Jobim,
                                                    Norman Gimbel, Arr.: Gwyn Arch
Mit Lieb bin ich umfangen                                 Johann Steuerlein
Posakala mila mama                                                    aus Bulgarien
                                                                        Arr.: Jos Van den Borre
Über den Berg ist mein Liebster gezogen                aus Finnland
                                                     Arr.: Josef Friedrich Doppelbauer
Pause
In der Bar zum Krokodil                         Willy Engel-Berger, Fritz
(Comedian Harmonists)            Löhner-Beda, Arr.: Albert Hosp
Der Floh                                                                Erasmus Widmann
From A Distance                               Julie Gold, Arr.: Teena Chinn
All Things Bright and Beautiful                                    John Rutter,
                                                                                       C. F. Alexander
(What If God Was) One Of Us                                     Eric Bazilian
                                                                                   Arr.: Anders Klint
Danke                                                               Daniel "Dän" Dickopf
(Wise Guys)                                                    Arr.: Edzard Hünecke
Mercy, Mercy, Mercy                                                 Josef Zawinul
                                                                         Arr.: Markus Poschner
Wir danken für Ihren Besuch !
Wir bitten um freiwillige Spenden.
Mitwirkende:
Sopran: Silvana Eckerstorfer, Tanja Egginger, Elke Eisschiel, Tina Hiebl, Beate Kaserer, Eva Mittendorfer, Marie Ohnmacht, Gundula Pinter, Maria Rauch, Christa Sonnberger, Gerda Steiger
Alt: Brigitte Eckl, Doris Fischer, Maria Hödl, Elisabeth Kunisch, Gerlinde Mair-Heinschink, Edith Malek, Ingrid Matzinger, Christine Struger
Tenor: Bodo Heise, Lydia Steininger
Bass: Gottfried Eckl, Walter Engelberger, Wolfgang Filzmoser
Klavier: Johanna Mane
Quintett: Andrea Engelberger, Gerlinde Mair-Heinschink, Doris Fischer, Bodo Heise, Wolfgang Filzmoser
Sprecher: Walter Engelberger
Leitung: Andrea Engelberger
Unser nächstes Konzert:
1. Adventsonntag, 1. Dezember 2019, 17 Uhr
Buchensaal Puchenau
Adventkonzert
Vokalensemble MOSAIK mit seinem
neuen Kinder- und Jugendchor